HPLC Accessories
ZircoFit UHPLC Fittings
..... a revolutionary combined steel + PEEK sleeve and crimping tool
Now you can have a custom-length (or volume) micro-or nano-UHPLC connection in a matter of minutes.
The core of the system is a combination of a PEEK sleeve with a fitted stainless steel collar on one side. Crimped with the appropriate squeezer, this assembly has a much stronger grip on the capillary than the usual conical ferrule on a plastic sleeve - it connects 1/16" PEEK sleeve onto your 360um OD fused silica tubing so that they withstand UHPLC pressures.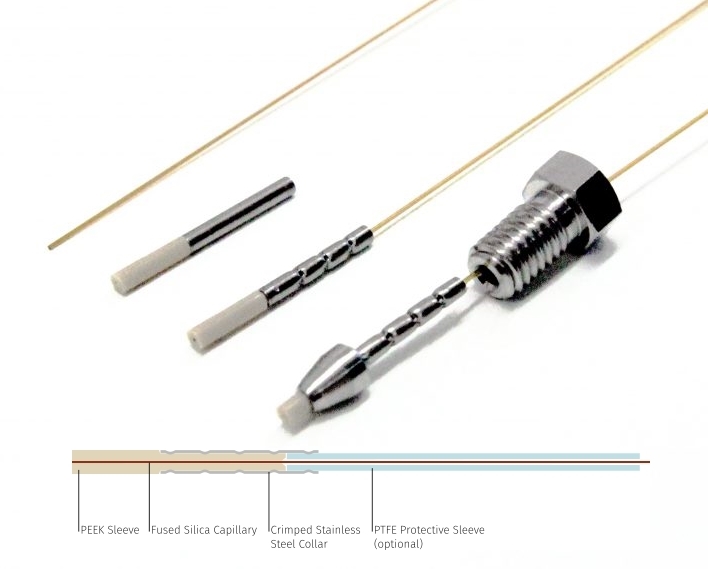 The starter kit contains all the parts needed for ten complete capillary connections and comes in a handy tool case: ZircoFit crimp sleeves, 1/16" conical fittings, fused silica capillaries and cutter, PTFE protective tubing, and the ZircoFit crimping tool. The latter is a squeezer that fits the sleeves onto the capillaries tight enough not leaking at 20,000 psi.
Ordering information (www.WebRshop.eu)
| | |
| --- | --- |
| Item | P/N |
| ZircoFit Crimp Tool | ZF-CT |
| 1/16″ ZircoFit Sleeve, 10 mm, 10 pcs | ZF-ST10-10 |
| 1/16″ ZircoFit Sleeve, 13 mm, 10 pcs | ZF-ST13-10 |
| Vici SS Nut 1/16″ and SS 316 Ferrule 1/16″, 10 pcs | VC-SS-F-NUT-10 |
| 10/363 Fused Silica, 5m | FS-10-363-5M |
| 25/363 Fused Silica, 5m | FS-25-363-5M |
| 50/363 Fused Silica, 5m | FS-50-363-5M |
| 75/363 Fused Silica, 5m | FS-75-363-5M |
| Fused Silica Cutter (Cleaving Stone) | FS-C |
| PTFE 1×0.5 Protective Tubing, 10m | PT-1-0.5-10M |
| Starter Kit* | ZF-KIT10P |
* Starter Kit
1 pc.

ZircoFit Crimp Tool

10 pcs.

1/16″ ZircoFit Sleeve, 10 mm

10 pcs.

1/16″ ZircoFit Sleeve, 13 mm

20 pcs.

Vici SS Nut 1/16″ and SS 316 Ferrule 1/16″

1 pc.

10/363 Fused Silica, 2.5m

1 pc.

25

/363 Fused Silica, 2.5m

1 pc.

50/363 Fused Silica, 2.5m

1 pc.

75/363 Fused Silica, 2.5m

1 pc.

Fused Silica Cutter (Cleaving Stone)

1 pc.

PTFE 1×0.5 Protective Tubing, 5m

1 pc.

Tool case holding all parts of the kit